Brewers Overview
Comprehensive Office Coffee Equipment Solutions
We provide a wide selection of coffee brewers suited to fit any office environment. We carry a wide selection of coffee brewers from traditional glass pot, thermal/airpot, and single cup brewers only from the leading manufacturers. We understand that our coffee brewers are a complimentary amenity to your office breakrooms. We want our brewers to enrich your facility and provide a service at the same time. Your employees and visitors will come appreciate the quality of gourmet coffees available on site. Equip your breakroom with the latest in refreshment solutions, contact us today!
Below is an overview of the different types of coffee brewers we currently offer. For a more in-depth look, click on each coffee brewer type for a complete look at our brewer solutions.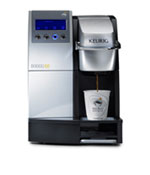 Single Cup Brewers
The latest innovation in refreshment services is the single cup brewer. Single cup brewers were developed with convenience, ease-of-use, and quality in mind. Single cup solutions deliver gourmet coffees one-cup at a time with no waste, no cleanup, and no waiting all within the office. We carry single cup brewers from leaders such as Starbucks, Keurig, Flavia, Douwe Egberts, and Avalon.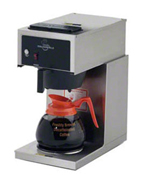 Traditional Brewers
Traditional brewers have passed the ultimate test in quality: time. As new innovations have been introduced in refreshment services, the traditional glass pot brewers still remain the popular choice for customers in all industries. The glass pot brewer is easy to use and clean with the ability to brew multiple cups at a time. It remains the ideal choice for high traffic workplaces and is a highly economic choice. We carry traditional brewers from leaders such as Bunn, Newco and Bloomfield.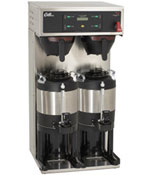 Thermal and Airpot Brewers
Thermal and Airpot brewers are a popular choice with environments that need to keep coffee hot for hours and transport within the workplace. Airpots have the ability to brew 4-6 gallons of coffee per hour making it a popular and economical choice with industrial workplaces. Airpot and Thermal brewers also incorporate unique design features that include hot water faucet for teas/soups, brew light indicating optimum temperature, and brew light alerts indicating brew in progress. We carry airpot and thermal brewers from leaders such as Bunn, Newco, and Bloomfield.
Green Coffee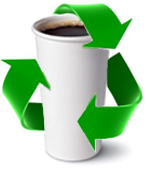 Fair-Trade Certified
Coffees
Organic Coffees &
Teas
Eco-Friendly Products
"Smart" Coffee
Brewers
Why Intellivend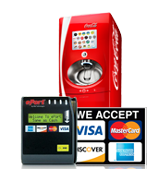 24/7 Commitment to Service
No Contracts
Wide Product Selection
Modern, State-of-the-Art
Equipment
Innovative Technologies
Green Initiatives