Beverage Machines
The BevMax Series
The Best Consumer Experience in Vending - An Entire Beverage Aisle At Your Service
Reliability
Tested. Proven. Reliable. Delivers unsurpassed reliability. For more than 150 years, Crane has built a reputation of providing products that are reliable, durable, and long-lasting.
Variety
Employees and visitors will thrive on the convenience offered by the BevMax. Equipped with a delivery system that allows for all types and sizes of beverages to be vended from the same machine. Enjoy your favorite juices, bottled water, energy drinks, soda, and much more with the BevMax. More capacity, faster delivery, and advanced payment solutions provide consumers with the optimal vending experience
Efficiency
The BevMax exceeds Tier 2 Energy Star standards. This ensures your employees are served refreshing, ice cold beverages while conserving energy with the machine's efficient compressor and fan motor features.
Speed
Most workplaces and facilities have "peak consumption periods" during breaks and lunch hours. The BevMax is two to three times faster than other glassfront vending machines, meaning your employees are satisfied more quickly and spend less time in the break room.
Dimensions: : 72"H x 41.5"W x 35"D
Product Selection Capabilities: 45 selections
Cashless vending solutions with credit/debit and mobile payment
Energy Star qualified with LED lighting, efficient compressors
"Served, not shaken" delivery mechanism
Sure-Vend equipped guaranteeing product delivery or money back
The Vue Series
A Whole New Way to Look At Vending...
Variety
The Vue offers the ability to provide your employees and visitors with an array of cold beverages. From soda, juices, teas, energy drinks, waters, and healthy beverages, the Vue will satisfy every taste preference
Versatility
Unmatched flexibility with multiple shelf configurations and indoor/outdoor capabilities. Increase selection and capacity for higher traffic locations within same footprint and security features equip machine to withstand outdoor elements
Technology
Equipped with innovative features including cashless vending solutions, guaranteed delivery systems, energy efficient lighting and compressors, and a "served, not shaken" delivery mechanism
Dependability
For over 75 years, Vendo has lead the vending industry by blending design, technology, and durability in producing their beverage vending machines.
Dimensions: 72"H x 41.5"W x 35"D
Product Selection Capabilities: 30-40 selections
Cashless Vending Solutions with credit/debit and mobile payment
"Served, not shaken" delivery mechanism
Energy Star qualified with features including LED lighting and refrigeration controls
Extra features for outdoor use: steel panels/grill, UV resistant polycarbonate face to protect glass, and double pane, argon filled tempered glass panel
The Stacker Series
Design
Built with image and durability in mind, stackers have high impact graphics to capture consumers while maintaining product integrity at the same time.
Capacity
Engineered for maximum product capacities.  Stackers provide high capacities for each selection ensuring consumers will always have the product they want, when they want it.
Technology
Come equipped with options such as LED lighting and refrigeration controls to conserve energy. Cashless vending solutions from credit/debit to mobile payments. Epoxy coated vend chute provides smooth product delivery to reduce carbonation.
Dependability
Stackers are built tough and durable to withstand vandal prone facilities and elements both indoors and outdoors.
Dimensions: 72"H x 34.75"W x 39.5"D
Product Selection Capabilities: Up to 8 selections & 660 units
Equipped with delivery sensor to detect product as it vends
Cashless vending solutions
Energy Star qualified with efficient lighting and refrigeration
High capacity machine
Technology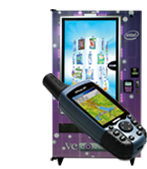 The Latest in Vending
Technology
Cashless Solutions
SureVendâ"¢ Guaranteed
Product Delivery Sensors
Remote Inventory Monitoring
Advanced Logistics Software
Automatic Maintenance Alerts
Why Intellivend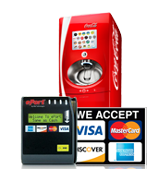 24/7 Commitment to Service
No Contracts
Wide Product Selection
Modern, State-of-the-Art
Equipment
Innovative Technologies
Green Initiatives