frozen & ice cream machines
The Evolution Series
A "Cool" vending solution to your facility.
Design
Constructed with high impact aesthetics and merchandising, the Evolution is sure to capture consumers' attention in any setting. Equipped with an unique chest freezer design and robotic arm, quality, ease-of-use, and interaction is assured with each vend.
Technology
As with all of our vending machines, the Evolution comes equipped with a guaranteed delivery system, cashless vending solutions, and energy efficient lighting/freezer.
Reliability
The Evolution is built by the leaders in ice cream vending: Fastcorp. Constructed with few moving parts and a chest freezer design, the Evolution ensures product integrity is maintained each vend.
Dimensions: 72"H x 41"W x 36"D
Product Selection Capabilities: 12-20 selections
Durable heavy steel construction suitable for indoor/outdoor use
High impact merchandising and aesthetics
LED lighting options
Advance payment solution options in credit/debit and mobile payment
Energy efficient freezer design built to maintain product integrity
The Frozen Gourmet Series
The frozen food section isn't just for the grocery store anymore.
Brand Power
The Frozen Gourmet has the ability to bring nationally recognized frozen entrée brands that deliver on the promise of quality and value to your employees. From pastas to pizza snacks, to calorie conscious healthy dinners, the choices are endless. Ice Cream novelties can be vended from single column selections giving your employees a sweet treat at the press of a button.
Performance Features
With configuration flexibility and the highest capacity in the industry, the FrozenGourmet assures your employees will have the products they desire when hunger strikes. With SureVend technology, you can rest assured your employees will receive their products your get their money back
Dependability
With an 80 year legacy, the National Vendors brand is renowned for superior durability and reliable operation
Dimensions: 72"H x 48.75"W x 37"D
Product Selection Capabilities: 32-40 selections
Advanced payment solution options with credit/debit and mobile payment
Highest capacity glassfront frozen merchandiser in the industry
Maximum merchandising flexibility
Foamed in place cabinet and door for increased energy efficiency and insulation properties
Triple pane heated glass prevents condensation
Retractable delivery door insure precise internal temp control & enhances product security
The A LA CARTE Series
Frozen and Refrigerated Merchandising with Maximum Visibility
Variety
The A LA Carte series is capable of feeding an entire workforce. Enjoy healthy entrees, deli style sandwiches, burritos, hot pockets, and ice cream all within your facility
Flexibility
Ultimate merchandising flexibility with multiple shelf configurations and varying capacity levels. Can configure machine to accommodate employees' preferences ranging from large items to small finger foods. The ability to setup as a refrigerated or frozen machine based on workplace preferences.
Technology
The A LA Carte comes equipped with the latest technologies in the industry including cashless vending solutions, guaranteed delivery systems, and energy efficient lighting and compressors.
Dimensions: 72"H x 37.5"W x 33.5"D
Product Selection Capabilities: 26-40 selections
Glassfront design for merchandising food items
Advanced payment solution options with credit/debit and mobile payment
Variable temperature control for frozen or refrigerated vending
Flexible shelving configuration to ensure capacity for small or large locations
Guaranteed delivery system ensures product delivery of money back
Technology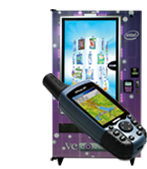 The Latest in Vending
Technology
Cashless Solutions
SureVendâ"¢ Guaranteed
Product Delivery Sensors
Remote Inventory Monitoring
Advanced Logistics Software
Automatic Maintenance Alerts
Why Intellivend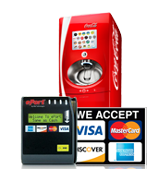 24/7 Commitment to Service
No Contracts
Wide Product Selection
Modern, State-of-the-Art
Equipment
Innovative Technologies
Green Initiatives